The Timber Trail is one of the 22 New Zealand Cycle Way, Nga Haerenga, Great Rides. A mixture of single track and historic bush tramway that winds through spectacular virgin podocarp and regenerating New Zealand bush that is home to some of New Zealand's rarest birds, including the Kokako. Historically very interesting, with many sawmills and settlements along the route. Imagine life for the pioneers working these mills with no electric power and the most basic accommodation amenities.
The trail is well graded and certainly suitable for fit beginners as it is not technical. The first half is an intermediate or grade 3 ride, due to the long climb (14km and nearly 500 vertical metres) over the shoulder of Mt Pureora. The second stage, from Piro Piro to Ongarue, is grade 2 and suitable for fit family groups who can ride 40 km on a well graded trail.
The 84km ride is completed over two days by most riders, commencing at Pureora and riding west to Ongarue. By doing the ride in this direction it is predominantly down hill. The halfway stop is at Piro Piro Flats, where there is a camping ground & Camp Epic glamping site and also the amazing eco-lodge, Timber Trail Lodge. The trail is well signposted with distance marker posts at 1km intervals.
A feature of the ride is the four spectacular wooden suspension bridges, the longest of which, the Maramataha Bridge, is 141m and 53m high near the start of the second day's ride. These are the most impressive of any NZ cycle or hiking trail. Near the end of the second part of the trail the ride negotiates the Ongarue Spiral, an amazing engineering feat. Hand hewn from the pumice and ignimbrite rock, the tramway travels in a loop, through a tunnel and crosses itself to achieve a climbing gradient that the old steam locomotives could manage.
Remember to check weather as the high point of the trail, at 980m, can be cold and exposed. Due to the remoteness of the trail and limited cell phone coverage we also recommend carrying a personal locator beacon, which can be hired from Adventure Shuttles.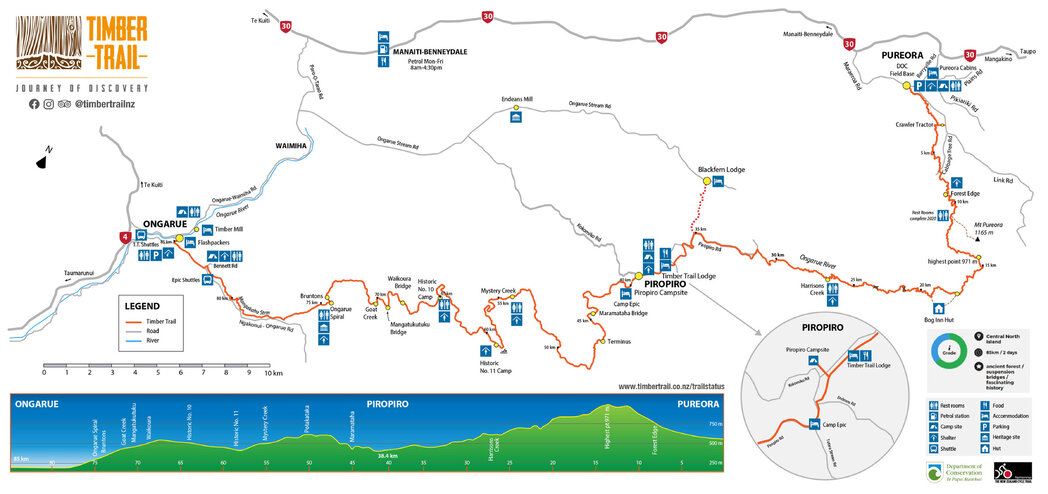 Timber Trail minimum 4 people – For parties 1 – 3 people please contact us
For more information, check out Timber Trail
Contact us and enquire about the Timber Trail now!
Enquiries
* indicates required fields